Are Stock Prices Too High?
I Googled' it: "about 16,900,000 results" So, do you think there might be some opinions on the stock market hitting all-time highs right now?
I receive a Situation Report from Bill Sherman of the Sherman Sheet every weekend. It includes a very detailed analysis and market recap from the previous week. Here's a snippet of what Bill had to see this past weekend:
"In the "decades" timeframe, the question of whether we are in a continuing Secular Bear Market that began in 2000 or in a new Secular Bull Market has been the subject of hot debate among economists and market watchers since 2013, when the Dow and S&P 500 exceeded their 2000 and 2007 highs. The Bear proponents point out that the long-term PE ratio (called "CAPE", for Cyclically-Adjusted Price to Earnings ratio), which has done a historically great job of marking tops and bottoms of Secular Bulls and Secular Bears, did not get down to the single-digit range that has marked the end of Bear Markets for a hundred years, but the Bull proponents say that significantly higher new highs are de-facto evidence of a Secular Bull, regardless of the CAPE. Further confusing the question, the CAPE now has risen to levels that have marked the end of Bull Markets except for times of full-blown market manias. See Fig. 1 for the 100-year view of Secular Bulls and Bears."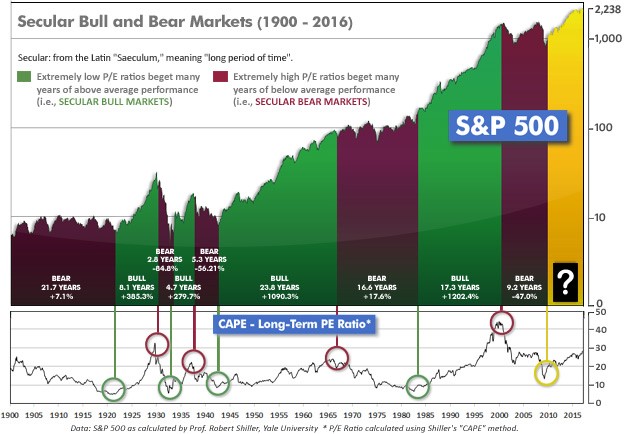 So what to make of that? As they say, hind sight is always 20/20. However, I am optimistic that this run will continue for some time to come. Here are some reasons why:
Layoffs remain ultralow, at levels last seen in the early 1970's
Initial jobless claims are the lowest we have seen since July of 1973
Sales of pre-owned homes surged to their highest levels in a decade last month
Nationwide the number of homes for sale declined by 7.1% compared to same time last year, while average prices rose over 7%
Consumer Sentiment has been higher in the last three months than any time since March of 2004
And finally another factoid from Sherman this week....
"...market bulls will be emboldened by a bullish signal that's about to flash—and has never been wrong. Sam Stovall, Chief Investment Strategist at CFRA, notes that one indicator he follows is about to get triggered. He notes that, since 1945, there have been 27 years when the S&P has achieved gains in both January and February. The stock index then finished up for the year (on a total-return basis) in every single one of those years. According to Stovall, that's going 27 for 27, or batting a thousand. The average rise in those years was a way-above-average +24% according to Stovall's research. While a heck of a precedent, past performance is no guarantee of future results!"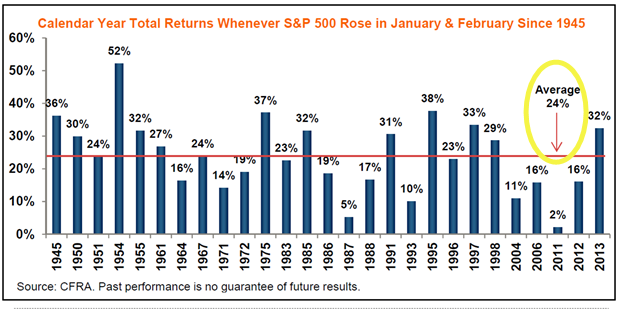 Is this what they call "running with the Bulls"?
Hope everyone is having a great day and remember - if you're nervous about your financial future, give us a call and let's talk about it. I'm excited about the solutions we have designed to react to all types of markets and about the software we are using to analyze risk and build more sophisticated plans.
Feel free to share with someone you know that might be shopping for better advice!