Will strong markets continue?
It is a pivotal week for politics and the market. Tensions seem to be high as we wait for news to unfold during the GOP convention in Cleveland, OH (Democratic convention next week in Philadelphia) as well as trying to forecast movements in the market after two consecutive strong weeks. Here are some comments and a recap of what happened across the globe last week.
The data and information below come from a research firm I subscribe to called the Sherman Sheet.
LargeCap stock benchmarks reached new highs this week, and got all the headlines, but it was the SmallCap Russell 2000 that saw the biggest gain among major U.S. indices. For the week, the Dow Jones Industrial Average rose +2.04%, or 369 points to close at 18,516. The LargeCap S&P 500 rose +1.49%, the S&P 400 MidCap index increased +1.53%, and the SmallCap Russell 2000 tacked on an additional +2.37%. The tech heavy Nasdaq Composite cleared the psychologically important 5000-level and is now positive year-to-date, up +1.47% to close at 5,029. I think it's interesting to say "now positive" year-to-date. Don't forget to look at the big picture when you listen to the nightly news. We had a relatively poor start to the year and it has taken the better part of seven months to start showing positive returns in the indexes.
In international markets, the big move came from Japan where the Nikkei went vertical for 5 straight sessions, shooting up over +9.2% on expectations of renewed stimulus after the re-election of Prime Minister Abe. Markets around the world were almost all positive last week. Canada's TSX rose +1.56%, while the United Kingdom's FTSE gained +1.19%. On Europe's mainland, all major indexes experienced significant gains. Germany's DAX rose +4.54%, France's CAC 40 was up +4.34%, and Italy's MIB gained +4.25%. In Asia, China's Shanghai composite rose +2.2% and Hong Kong's Hang Seng composite ended up +5.33%.
In economic news, the latest Job Openings and Labor Turnover survey (JOLTS) data from the Labor Department reported a significant decline in job openings to 5.5 million in May - lower than the 5.75 million expected, but still an improvement over May's numbers. The overall hires rate continued to outpace the total number of separations for the month which implies an increase in overall employment. Job openings declined in the manufacturing and wholesale trade sectors, but there was an increase in retail trade openings. On the hiring side, education and health care continued their resilience.
Interesting related facts from the Sherman Sheet: it is believed by most that the highest-earning racial/gender grouping in the U.S. would obviously be college-educated white men, right? It's obvious! Whether because of discrimination, gender bias, access to opportunities or simply happenstance, that's the universally-held belief. Except that it isn't true. The highest earning racial group among the college-educated of both genders in the U.S. is…Asian.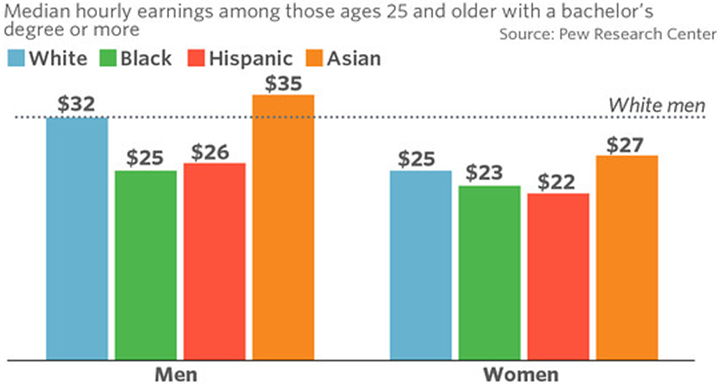 Optimism among U.S. small-business owners rose for the third-straight month, according to the National Federation of Independent Business (NFIB). The optimism sub-index rose +0.7 point to 94.5, beating consensus expectations of 94.0. Only 3 of the 10 components declined in June, and the biggest increase was in the number of respondents who expect the economy to improve. Small-business owners continue to have trouble finding qualified workers: more than half reported hiring or attempting to hire, but 48% reported no or few qualified applicants for open positions. For 15% of respondents, the single biggest issue is the inability to find qualified workers.
Material discussed is meant for general illustration and/or information purposes only and it is not to be construed as investment, tax, or legal advice. Although the information has been gathered from sources believed to be reliable, please note that individual situations can vary. Therefore, the information should be relied upon when coordinated with individual professional advice.